Ellie Hawthorne

Information
Full Name
Eloise Megan Hawthorne
Nickname(s)
Ellie
Gender
Female
Born
6 March 1994 (age 18)
Edinburgh, Scotland
Eye Color
Blue
Hair Color
Blue
Affiliation
The Laylas
Eloise Megan "Ellie" Hawthorne 
(born March 6, 1994 in Edinburgh, Scotland) is a Scottish singer-songwriter known for being a member of the English-Scottish girl group 
The Laylas
. She is the guitarist and one of the main songwriters of the group, along with
Delilah Byrd
.
Early Life
Edit
Ellie Hawthorne was born in Edinburugh, Scotland, and was a younger sister to three adult brothers. At the young age  of eight, Hawthorne's father, a trained musician, began teaching her basic chords on the guitar. It came naturally to her, and soon she could play long and complicated riffs with flawless ease. Later finding out she had a singing voice, she began posting her original songs on YouTube, before being discovered by Delilah Byrd to join The Laylas.
Acting Career
Edit
2004: Creaking Floorboards film
Edit
Hawthorne played the minor role of Eve Faulkner in the popular thriller film Creaking Floorboards, and acted in very few scenes.
2008: Lost But Found film
Edit
Hawthorne landed a role in the successful film Lost But Found, starring as Jessica Jagger, a teenage girl who is 
raped by her boyfriend. 
2009: Help Is Not Needed film
Edit
Hawthorne then won the cameo apperance of a crazed fan of a girl group.
2012: Jacks and Aces
Edit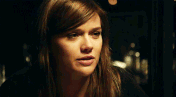 In her most recent role, Hawthorne played the minor role of the un-named Jack, a girl captured and brutally tortured by the Aces in the highly-grossing Jacks and Aces movie.
Music Career
Edit
2012-present: The Laylas
Edit
Hawthorne auditioned for the Laylas under Delilah Byrd's recommendation, and was accepted fifth into the group. The group's debut album Celestia was released on March 19, 2013. 
Their second studio album, Werewolves + Lullabies is scheduled to be released on June 4, 2013.
Personal Life
Edit
Hawthorne currently lives in a small apartment with her dogs, and has said that she is "single, happy and having the time of my life." Hawthorne is openly bisexual.
She is a Pisces.
She has been described as the "Baby Spice" of the group.
Her, Nadia Goulding, and Delilah Byrd are the only members to play an instrument.

She plays guitar.
Goulding plays piano, violin, and guitar. 
Byrd plays piano.

She has been in a few films, as cameo appearances or extras, and has had one major role.
She has an Alsatian puppy called Luna and a border collie named Max.
She lives with a friend in an apartment in London.
Is a talented gymnast.
She's the youngest member of the group by ten months.
The group describes her as "the baby sister of the group."
She's a soprano.
She has said that she "prefers Delilah Byrd's hair dyed red". 
Filmography
Edit
| Year | Title | Role | Notes |
| --- | --- | --- | --- |
| 2004 | Creaking Floorboards | Eve Faulkner | Minor role |
| 2008 | Lost But Found | Jessica Jagger | Major role |
| 2009 | Help Is Not Needed | Fan of the band | Cameo Appearance |
| 2012 | Jacks and Aces | Captured girl | Minor role |
| 2013 | Shake It Up | Herself | Guest starring role |